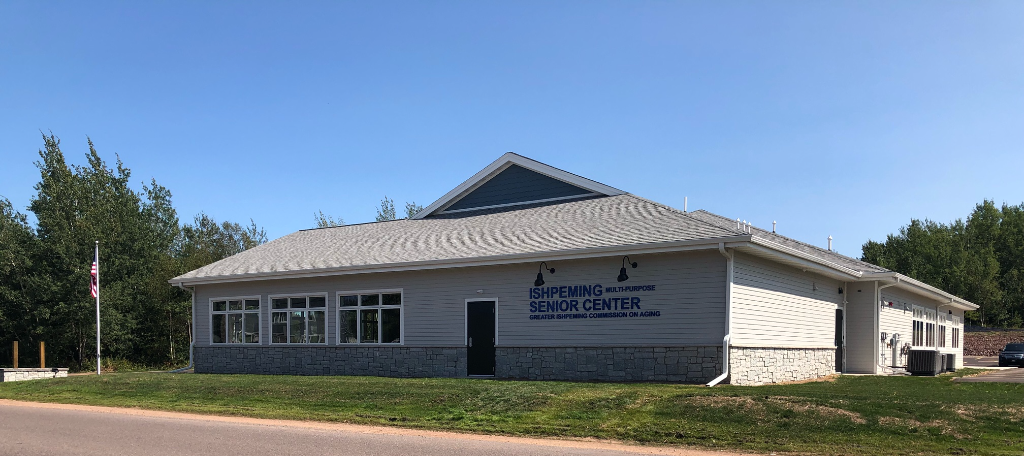 Home
The Ishpeming Multi-Purpose Senior Center is operated by the Greater Ishpeming Commission on Aging (GICOA) a 501(c)3 non-profit corporation.



We provide services and programs to seniors, 60 years and older who reside in the City of Ishpeming and the Townships of Ishpeming, Tilden, Ely, Champion, Humboldt, Michigamme and Republic.


Special Events in

November

:
Dec. 4th-

Jean Kohtola's Ornament Workshop- $15 for 4 Ornaments

Dec. 5th- Technology Workshop-12pm
Dec. 8th- Movie and a meal.
Dec. 11th- Macrame ornaments with Joann Manty-12pm
Dec. 12th-Veterans Q & A with Jim Yates from the V.A.
Dec. 14th-Cookie decorating with a Girl Scout Toop-3:30-5pm
Dec. 14th-Christmas Light Tour-5-7pm, cost is $1-sing carols and look at lights in MQT county
Dec. 19th-Caregiver support Group-2pm
Dec. 22nd-Coffee with the Ishpeming city mayor Jason Chapman.
Dec. 24th & 25th will be closed due to the holidays.
Meals:
Thursday's Meals
Dec. 7th-Chicken Cordon Bleu casserole.
Dec. 14th- Beef Enchiladas
Dec. 21st- Holiday Ham Dinner
Dec. 28th- Chicken, Broccoli and Rice
Michigamme Meal
Every Tuesday at 12pm at the Michigamme Township Hall-call to get on the list. Call Nancy to get on the list at 906-869-1557
​​​​​​Humboldt Meal
Dec. 13th at the Humboldt Twp. Hall at 12pm. Participants can bring a dish to pass.
​Champion Meal-
Dec. 20th at 12pm at the Redeemer Lutheran Church-call 906-485-5527 to get on the list.
Republic Meal​​​​​​​
​​​​​​​
Health and Fitness:
Dec. 5th & 19th- Diabetes Education with Sarah Smith at 10am
Foot Care Clinic
December 1st & 8th at the Ishpeming Senior Center. Call to make an appointment.
Blood Pressure Clinic
Fitness
Monday-Low Impact at 10am
Wednesday-Strong Body at 10am
Friday-Chair Yoga at 10am
Tuesday-Tai Chi at 2pm
Wednesday- Line Dancing at 2pm
Class Get Togethers:
Dec. 4th is Class of 1967
Dec. 18th is Class of 1956
Dec. 27th is Class of 1973